Westcliff Compounding Pharmacy was established in 2011 and boasts an experienced staff of professionals. We strive to provide the highest level of customer service and quality medication solutions.
While all pharmacists are licensed by the same boards of pharmacy and permitted to perform the same general duties, a compounding pharmacist has acquired specialized knowledge used to create custom drug formulations with your specific needs in mind.
Further, we consult privately with you to address your personal health concerns, and ultimately create solutions in collaboration with your healthcare provider.
Our areas of expertise include, but are not limited to, pain management, hospice, sports medicine, hormone replacement, dermatology, podiatry, and veterinary.
Our staff has had unique experiences advising and serving clients from Major League Baseball, the National Basketball Association, the National Football League, the National Hockey League and the US Olympic Committee continuously since 2000.
Within the pharmacy profession, we have a long history of service and volunteer leadership at the local, state and national level. Most importantly though, we have demonstrated a...
COMMITMENT TO EXCELLENCE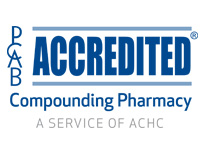 Westcliff Compounding Pharmacy is accredited by Pharmacy Compounding Accreditation Board (PCAB) for compliance with PCAB Pharmacy Compounding Accreditation Standards. PCAB is a service of Accreditation Commission for Health Care (ACHC) and is a third-party accreditation organization that has developed the highest national standards that providers are measured against in order to illustrate their ability to effectively and efficiently deliver quality compounded medications to consumers.
PCAB performs on-site visits with industry-expert Surveyors who audit specific areas of performance. PCAB Accreditation also requires annual validation to ensure continued compliance with all applicable standards.
WHAT DOES IT MEAN FOR YOU?
PCAB Accreditation requires pharmacies to demonstrate compliance with specific process standards. By choosing
a compounding pharmacy that has achieved PCAB Accreditation, you can take comfort in knowing that the pharmacy meets national quality standards. If you have any concerns about the product or service that you receive from Westcliff Compounding Pharmacy you may contact ACHC directly at 855-937-2242.